Mercedes electronic steering lock problem is one of the most frequent problems in Mercedes Benz starting system, Mercedes dealer have to order new steering lock and program it which is too much costly and required long time of waiting
Our electronic steering lock Mercedes emulator will fix your steering lock malfunction error, and the Mercedes Benz ESL ELV universal steering lock emulator will bypass Mercedes ELV permanently, our Mercedes ESL emulator doesn't require coding, simply connect and it will fix your Mercedes ESL failure.
If you wish to move the Mercedes steering lock emulator to another vehicle to diagnose a fault then the Mercedes steering lock bypass emulator can be connected to another car without coding.
Mercedes ESL ELV emulator will make your job easier and faster, Mercedes ESL fault repairing was never that easy before our emulator.
Using Mercedes ELV bypass emulator is safer and more durable than Mercedes ESL repairing since you will not get Mercedes ESL issues anymore in the future. The Mercedes EIS emulator replaces the original Mercedes ESL signal. It is used in the event of damage Mercedes ESL or checking the correct operation of e.g. the ignition switch.
Mercedes ESL Bypass Emulator Main Features:
Mercedes universal steering lock emulator is very simple and easy to use
Mercedes universal ELV emulator doesn't require coding
Mercedes universal ESL emulator light helps you to Determine the status of ELV programming
How to Use & Fix ESL Steering lock Mercedes Emulator
Unplug the ELV wire from the original car steering lock unit
If vehicle steering lock is in lock mode, steering lock must be removed from the car
Connect our Mercedes ELV emulator to the car and start the car.
Mercedes Steering lock emulator light behavior
After connecting Mercedes ELV ESL to the car, or to the testing cables, insert the car key to the ignition switch
If the Emulator ELV Mercedes Benz light turn green that mean it is connected well and the car is ready to start
If the Mercedes EIS Emulator light turn red that mean the key doesn't belong to the same EIS / EZS or you have Mercedes EIS problem
If the Mercedes ELV emulator light didn't turn no you must check the power supply of the car / cables
EIS ESL Mercedes Emulator Supported models:
Mercedes W639 ELV emulator, Mercedes W639 steering lock emulator
Mercedes W906 ELV emulator, Mercedes W906 steering lock emulator
Mercedes W209 ELV emulator, Mercedes W209 steering lock emulator
Mercedes W211 ELV emulator, Mercedes W211 steering lock emulator
Mercedes W219 ELV emulator, Mercedes W219 steering lock emulator
Mercedes W202 ELV emulator, Mercedes W202 steering lock emulator
Mercedes W208 ELV emulator, Mercedes W208 steering lock emulator
Mercedes W210 ELV emulator, Mercedes W210 steering lock emulator
Mercedes W203 ELV emulator, Mercedes W203 steering lock emulator
Mercedes W463 ELV emulator, Mercedes W463 steering lock emulator
Mercedes W169 ELV emulator, Mercedes W169 steering lock emulator
Mercedes Sprinter ELV emulator, Mercedes Sprinter steering lock emulator
Mercedes VITO ELV emulator, Mercedes VITO steering lock emulator
Mercedes VIANO ELV emulator, Mercedes VIANO steering lock emulator
VW Crafter ELV emulator, VW Crafter steering lock emulator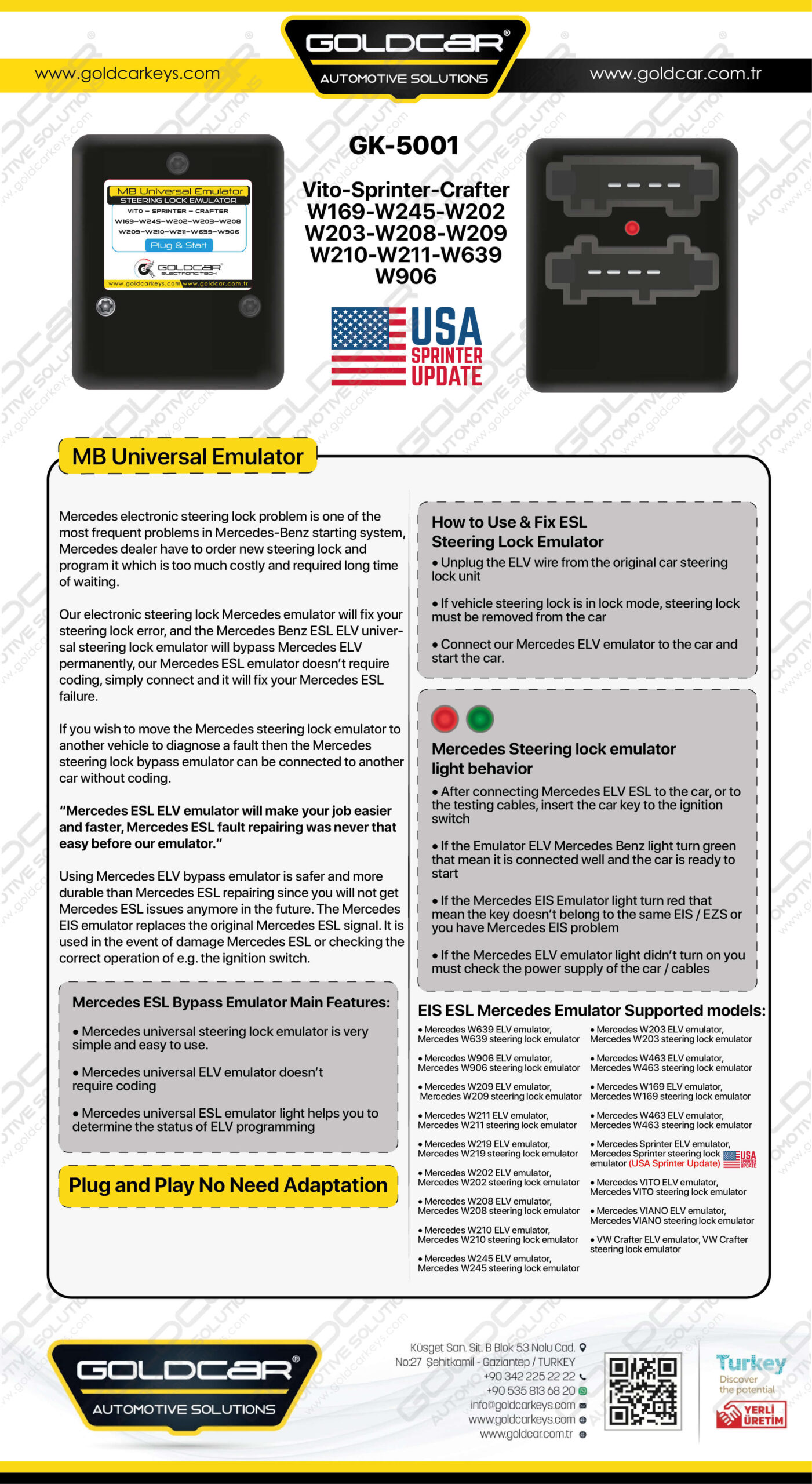 Product Code: GK-5001